Uncategorized
April 06th, 2017
The Importance of Facial Protection
Americans from all walks of life should mark April as National Facial Protection Month on their calendars. The American Association of Pediatric Dentistry, Academy for Sports Dentistry, American Academy of Pediatric Dentistry, and American Association of Oral and Maxillofacial Surgeons have combined forces to sponsor this annual campaign, which aims to educate and remind us of the importance of protecting our face and teeth against impacts and injuries.
Wearing a helmet can save your life and prevent devastating physical damage in a variety of situations, from playing football to riding a bicycle. According to the American Association of Oral and Maxillofacial Surgeons, helmets reduce the risk of various head injuries by as much as 85 percent. Whether helmet laws apply in your area or not, Dr. Beckett and our team at Beckett-Zebrick Orthodontics want you to make sure you and your loved ones wear helmets with the appropriate safety ratings for specific activities. (A sticker on or inside the helmet will usually indicate this rating.) Helmets can also help save your teeth if they come with an attached faceguard, an essential addition for football players and others involved in contact sports.
Preventing Dental Injuries
A mouthguard can protect you against a variety of dental injuries, such as cracked, broken, or knocked-out teeth. The American Dental Association states that mouthguards play an essential role in preventing up to 200,000 dental injuries each year, and many states mandate their use for sports activities such as football and hockey. The Academy for Sports Dentistry warns, however, that these mouthguards must be custom-fitted as precisely as possible to prove effective. Have a professional-quality mouthguard molded and fitted by our team at Beckett-Zebrick Orthodontics for better protection than a generic store-bought or "boil-and-bite" variety can offer. These cheaper versions tend to wear out quickly, interfere with proper breathing, and provide uneven degrees of cushion against impacts. Always have a fresh mouthguard fitted for each new sports season.
Choose the right combination of helmet, faceguard, and mouthguard to protect your teeth and face this April, and tell your friends to do the same! To learn more about mouthguards, or to schedule an appointment with Dr. Beckett, please give us a call at our convenient Lansdale, PA office!
March 30th, 2017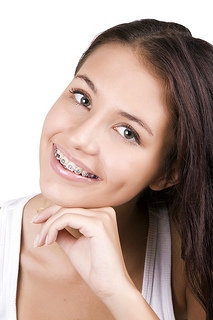 You've made an investment on spending money on getting braces, so why not keep your teeth in good health while undergoing orthodontic treatment? Dr. Beckett and our team at Beckett-Zebrick Orthodontics will tell you it is just as important to develop a regular hygiene routine while you're wearing braces as you did before proceeding with treatment.
Flossing is essential to the health of your teeth and gums when you're wearing braces. Because braces may hold food, sugars and liquids upon eating, it is very important to keep on top of your brushing and flossing, as well as visiting our office for regular adjustments.
While we know it's tough enough to get kids to floss daily without braces, that battle becomes even tougher when braces are involved. Remember that by not flossing, you will become more prone to cavities and gum disease during your treatment.
When flossing, remember to gently massage your gums in between the teeth. You will find that flossing with braces takes extra time, as you will have to weave the floss through each bracket. When flossing, there should be no signs of blood. If you see blood, you are not flossing enough or properly.
Using an electric toothbrush is also a good idea to massage your gums before or after flossing as electric toothbrushes can help remove any harmful bacteria that are lingering in your mouth. And don't forget to add a mouthwash to your routine to break up any bacteria that has formed. A good mouthwash will help keep your teeth and gums in good shape during your treatment.
If you have any questions about flossing or your orthodontic treatment at Beckett-Zebrick Orthodontics please don't hesitate to give us a call or during your next adjustment appointment!
March 23rd, 2017
Wearing braces during your treatment at Beckett-Zebrick Orthodontics presents some unique challenges in the types of food you can safely eat. The wrong items can be difficult to remove from between your teeth and the appliance. Other foods may even break or loosen your braces.
Dinner recipe ideas
Lasagna is a great dinner choice because it provides you with several food groups in one easy dish.
1 ½ pounds ground hamburger
1 garlic clove
1 tsp. basil
1 pound diced tomatoes — canned is fine
12 oz. tomato paste
1 package of dry spaghetti sauce mix for seasoning
10 oz. box dry lasagna
3 cups ricotta or cottage cheese or 1 ½ cups each mixed
½-cup Parmesan cheese
2 eggs
1 pound sliced or shredded Mozzarella cheese
Brown and drain your hamburger meat. Dice the garlic and simmer the hamburger, garlic, basil, diced tomatoes, tomato paste and powdered sauce mix for ½ hour.
Cook the lasagna noodles as directed on the package and drain.
Beat the eggs and combine them with your ricotta or cottage cheese.
Layer ½ of the noodles in a 13 x 9 pan. Spread ½ of your cottage cheese mix on top of the noodles, then layer ½ of the mozzarella on top. Finish this layer with ½ of your hamburger mix. Repeat the layering with the other half of your ingredients. Bake at 350 F for 30 minutes.
Meats
You can enjoy ribs and chicken wings as long as you cut the meat from the bone before you eat. The same rule applies to turkey legs; do not gnaw on bones, because this can damage your braces.
Vegetables and fruits
You still need to include fruits and vegetables in your daily meals. Skip corn on the bob, whole apples, and raw carrots. Broccoli is soft but particles can become stuck in your braces, so be sure to brush and floss after your meal.
Desserts
Avoid caramel, taffy, and hard candies for dessert. Pudding and ice cream are fine, but low-sugar versions are best.
Remember that your mouth will be sore after adjustments with Dr. Beckett. Stick to softer foods until the sensitivity is reduced. Please do not hesitate to ask our team for recipe and meal ideas. We will be happy to take the time to explain which foods items are the best choices and why.
If you have any questions about these recipes, or if you have any questions about eating with braces, please give us a call at our Lansdale, PA office!
March 16th, 2017
On March 17, everyone has a little Irish in them. St. Patrick's Day is a joyous celebration of Irish heritage. The holiday originated as a commemoration of Saint Patrick, who brought Christianity to Ireland. The saint arrived in Ireland in 432 and earned the reputation of a champion of Irish Christianity. March 17th, the day of St. Patrick's death, has been commemorated by the Irish for over 1,000 years. St. Patrick's Day is still observed as a religious feast day by several Christian denominations, but it is better known in the public imagination as a rich celebration of Irish culture.
St. Patrick's Day has been an official public holiday in Ireland since 1903. Each year, the Irish celebrate with a several-day festival that includes theater performances, music, fireworks, and festive parades. The celebration is also a public holiday in Northern Ireland, Montserrat, and Newfoundland and Labrador. In other parts of the world with heavy Irish populations, it is an unofficial celebration of Irish heritage. Parts of Great Britain, Canada, Argentina, South Korea, Switzerland, New Zealand, the United States, and Australia commemorate the holiday each year. Typical celebrations in these countries include drinking green beer, wearing green, eating traditional Irish foods, parades, and shamrock decorations.
Many people, Irish and non-Irish alike, take part in the "wearing of the green" on St. Patrick's Day. In fact, the color originally associated with Saint Patrick was blue. His use of shamrocks to explain the Holy Trinity to the Irish made the green clover emblematic of the holiday, leading to the traditional green attire worn by thousands on St. Patrick's Day. Other little-known facts about St. Patrick's Day include the following:
Each year, the United States and Ireland face off in a rugby competition called the "St. Patrick's Day Test."
Montreal celebrates the holiday with an annual parade, which has been held each year since 1824. The Montreal city flag even features a shamrock in its corner, as a nod to its Irish heritage.
The Guinness World Records named St. Patrick's Day the "Friendliest Day of the Year."
Along with Valentine's Day, St. Patrick's Day is one of the most widely celebrated saint's day in the world.
No matter your cultural heritage, St. Patrick's Day is a great time to let loose and celebrate your inner Irish-ness! Don your greenest attire and exclaim "Erin go Bragh!" (Ireland forever!) to everyone you meet. From Dr. Beckett – have a great St. Paddy's day!
March 09th, 2017
Many people undergo orthodontic treatment during childhood, adolescence, and even into adulthood. Wearing orthodontic appliances like braces is sure to produce a beautiful smile. Though orthodontic treatments at Strohecker-Beckett Orthodontics are designed to accommodate your lifestyle, chances are you will need to make some dietary modifications to prevent damage to your braces and prolong orthodontic treatment.
The First Few Days with Braces
The first few days wearing braces may be the most restrictive. During this time, the adhesive is still curing, which means you will need to consume only soft foods. This probably will not be a problem, however, as your teeth may be tender or sensitive while adjusting to the appliances.
Orthodontic Dietary Restrictions
You can eat most foods normally the way you did without braces. However, some foods can damage orthodontic appliances or cause them to come loose. Examples of foods you will need to avoid include:
Chewy foods like taffy, chewing gum, beef jerky, and bagels
Hard foods like peanuts, ice chips, and hard candy
Crunchy foods like chips, apples, and carrots
How to Continue to Eat the Foods You Love Most
Keep in mind that you may still be able to enjoy some of the foods you love by making certain modifications to the way you eat them. For example, steaming or roasting carrots makes them softer and easier to consume with braces. Similarly, you can remove corn from the cob, or cut up produce like apples and pears to avoid biting into them. Other tips include grinding nuts into your yogurt or dipping hard cookies into milk to soften them. If you must eat hard candies, simply suck on them instead of biting into them.
If you have any question whether a food is safe to eat during your treatment with Strohecker-Beckett Orthodontics, we encourage you to err on the side of caution. Of course, you can always contact our Lansdale, PA office with any questions you have about your diet and the foods that should be avoided during treatment. By following our dietary instructions and protecting your orthodontic appliances from damage, you will be back to chewing gum in no time.
March 02nd, 2017
Dr. Beckett and our team at Strohecker-Beckett Orthodontics know that for some of our patients wearing braces, it can be difficult to weave through those wires and brackets as you brush and floss during your treatment.
Some of our patients use a water pick to flush out food and other particles and bacteria stuck between their teeth as the water can reach behind the metal wires and hit spots where your floss simply cannot reach. People suffering from gum disease also find water picks quite effective because of their ability to flush out bacteria from inside the deep pockets.
Water picks are friendly to braces and are also gentle on the gums. They are less likely to cause bleeding for people with sensitive teeth or gums. But as many benefits as they may have, Dr. Beckett and our team want you to know that water picks should never be used as a substitute for flossing. Though they are great tools for helping improve oral health while you are in treatment, they are just not a good enough tool on their own to keep your mouth and gums gingivitis- and decay-free. Water picks are also incapable of removing plaque from teeth as effectively as floss can. While water picks rinse the sticky bacteria off your teeth, flossing is actually more effective as it actually scrapes the bacteria off of your pearly whites.
If you have any questions about water picks or any general questions or concerns about your orthodontic treatment, we encourage you to please ask us below or give us a call!
February 23rd, 2017
Did you know that even in ancient times, people wanted to improve the look and function of their smiles? Strohecker-Beckett Orthodontics thinks of modern orthodontic appliances as sleek, efficient technology, but this was not always so! Take a look at the highlights in the evolution of braces. Ancient Times: From Greece to Rome
According to The Angle Orthodontist, Aristotle and Hippocrates first thought about methods for straightening teeth between 400 and 300 BC.
The Etruscans, in what we now know as Italy, buried their dead with appliances that maintained spaces and prevented collapse of their teeth and jaws during life. Archaeologists have discovered mummified remains in various locations that have metal bands wrapped around the teeth.
A Roman tomb has also been discovered in which the teeth were bound with gold wire, including documentation on the wire's use as a dental device.
18th Century: A French Development
The French dentist Pierre Fauchard is acknowledged as the father of modern dentistry. In 1728 he published a book that described various methods for straightening teeth. Fauchard also used a device known as a "blandeau" to widen the upper palate.
Louis Bourdet was another French dentist who published a book in 1754 that discussed tooth alignment. Bourdet further refined the blandeau and was the first dentist to extract bicuspids, or the premolar teeth between canines and molars, for the purpose of reducing tooth crowding.
19th Century: Orthodontics Defined
Orthodontics started to become a separate dental specialty during the early 19th century. The first wire crib was used in 1819, marking the beginning of modern orthodontics.
During this period, gold, platinum, silver, steel, gum rubber, vulcanite, and occasionally wood, ivory, zinc, and copper were used — as was brass in the form of loops, hooks, spurs, and ligatures.
Edward Maynard first used gum elastics in 1843 and E. J. Tucker began making rubber bands for braces in 1850.
Norman W. Kingsley published the first paper on modern orthodontics in 1858 and J. N. Farrar was the first dentist to recommend the use of force over timed intervals to straighten teeth.
20th Century: New Materials Abound
Edward Angle developed the first classification systems for malocclusions (misaligned teeth) during the early 20th century in the United States, and it is still in use today. Angle founded the American Society of Orthodontia in 1901, which was renamed the American Association of Orthodontists in the 1930s.
By the 1960s, gold was universally abandoned in favor of stainless steel.
Lingual braces were the "invisible" braces of choice until the early 1980s, when tooth-colored aesthetic brackets made from single-crystal sapphire and ceramics became popular
Today
As we arrive in the present, you need only look at your own braces to see how far we've come. Your treatment plan was probably created with a 3D digital model, and we've likely used a computerized process to customize your archwires. Perhaps you have clear aligners, self-ligating brackets, or highly resilient ceramic brackets with heat-activated wires.
Orthodontics has come a long way from the days of Aristotle, and even the bulky wrap-around braces of just 60 years ago. Regardless of your specific treatment plan, the development of high-tech materials and methods has made it possible for your orthodontic experience to be as effective, efficient, and comfortable as possible. Call our office in Lansdale, PA to schedule your first orthodontic consultation!
February 16th, 2017
Halitosis is the fancy, scientific word for "bad breath." Drs. Beckett and Strohecker and our team know there are several reasons why you may have halitosis; let's look at a few:
Gum disease (also known as periodontal disease) – There are five main types of gum disease, and each one can range from mild to severe. For example the most common one is gingivitis; it is caused by bacteria in the plaque that has been allowed to build up, usually as a result of poor oral hygiene. A more serious and uncommon type of gum disease is called necrotizing periodontal disease. It is most common in people who have a suppressed immune system.
Smoking
Dry Mouth – This can be caused by something as simple as a medication you take.
Food – Of course, if you eat something that is potent like garlic, it is going to give you bad breath.
Diseases of the Body – Some diseases such as sinus infections and diabetes, among a few other types of infections, can also cause you to have halitosis.
How to Get Rid of Halitosis
The most obvious answer to how to get rid of halitosis is to practice good oral hygiene, although, depending on the cause of halitosis it may not be that simple. If you have an infection that is causing the halitosis then you may need an antibiotic to clear up the infection and then the bad breath will go away. Here are more tips:
Brush your teeth after every meal and before bed.
Floss your teeth. The more plaque you get out of your teeth, the better chance you have of not getting cavities or bad breath.
Address any medical conditions that are not related to your teeth that can be causing the halitosis.
Ask Drs. Beckett and Strohecker for a prescription mouthwash that kills bacteria.
Halitosis (bad breath) can be an embarrassing condition to live with, but there are plenty of ways to get rid of it permanently. Start by talking to a member of our team at our Lansdale, PA office.